My before and last day in Langkawi ♥
Hihi, before last daya aku di Langkawi aku pergi Restaurant Wan Thai. Dah ada nama Thai tu memang confirm ah makanan Thai kan? :D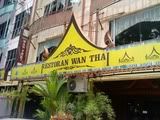 Menu kitaorng makan siakap 3 rasa, ayam gajus, otak-2 thai, kerabu and tomyam. Ada ulam sikit lah. Haha. Nak tengok kawan untiena makan, psst, gelojoh kot. HAHA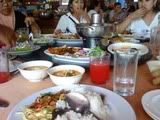 Lepas makan kitaorng pergi ke Idaman Suri. Tempat shopping paling hebat ahh, pinggan mangkuk aku syor *sempat lagi* shopping dekat sini. Time dekat sini aku beli pencilbox penguin yang comel untuk adik, handbag and bedsheet untuk aku bawa ke UiTM :)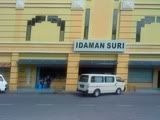 Okay, second day aku tak keluar pun. Just duduk hotel, online and maharaja lawak-ing. HAHA.
Aku bertolak ke airport pukul 5 lebih, lepas kastam check bag semua, aku lepak dekat coffe corner. Nak tahu tak ice cream ni berapa harga?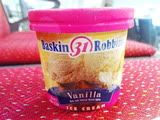 Kecik kan? RM11 doh. Alahai, kopak duit aku. Dah tinggal RM10 dalam purse, ingatkan cukup. Ahakz, malu kot :D
And then mulah nampak aksi-2 yang aku tak suka. Nak tahu ?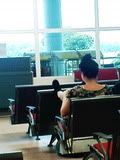 Weh matsalleh, kau ingat ni airport bapak kau? Tak cukup lagi ni haaaa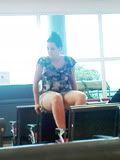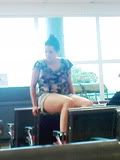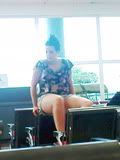 Weh, kalau orang Melayu buat macam ni dekat airport kau, naik hangin tak? Kau nak tunjuk dekat siapa pantat kau nak buat macam tu? Please, respect others, walaupun aku tahu bangsa kau bangsa taktahu dosa. Tolonglah.
Tak cukup mastsalleh, alahai, Arab pun ada!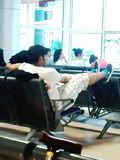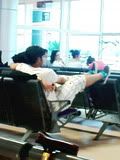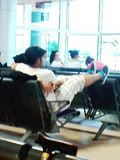 Kau dengan tutup litupnya, dengan burdah bagai, peluk-2, cium-2. Hoi, public kot. Depan orang kot, buat malu Malaysia lah sial! Sumpah nak cakap benda ni dekat PM =.=
ARGH! Panas tengok semua ni. Hihi, sorry post kali ni penuh dengan gambar je.
And btw aku lepak esuk, last day meeting with my friends. Boleh bagi keychain dari Langkawi semua. Hihi, adios :)